Padding

100% Synthetic
100% Recyclable
100% Non Allergenic
Most padding contains PVCs which commonly discolor floors, and are not good for your health or your environment.
Features
1) Manufactured as a firm synthetic fiber coated with a non-slip synthetic rubber coating.
2) Synthetic fibers.
3) Functional & applicable for all surfaces.
4) Superior Non-Skid
5) Extends the life of your rug with a thicker 48 oz's per square yard weight.
6) Provides firm base to protect your rug and flooring investment.
Benefits
1) Will not stain, discolor, or mar your carpet or floor. Fibers are free of toxic elements, and exceed the Carpet Research Institute (CRI) Green Label certifications standards.
2) Helps prevent mold, mildew and odor causing bacterial growth.
3) For use over all hard and carpet surface floors including ceramic, marble, terra cotta tile, and wall-to-wall carpets.
4) Holds rugs firmly in place over carpet and hard surface floors with 100% surface contact.
5) Protects the rug backing from hard and abrasive floors.
6) Non-Skid firm base reduces wear and tear on your floor and rugs, along with preventing tripping and sliding.
The rubber in these products is Styrene Butadiene Rubber (SBR).
Styrene Butadiene Rubber is one of the most widely used Polymers in the world today. This material adds years of life to not only carpet cushion, but also many consumer items, such as footwear and sporting goods. Its popularity is due to a high strength cushioning material that preserves its elasticity and original shape despite years of continuous punishment.
SBR is a commodity material which competes with natural rubber. The elastomer is used widely in pneumatic tires. This application mainly calls for E-SBR, although S-SBR is growing in popularity. Other uses include shoe heels and soles, gaskets, and even chewing gum.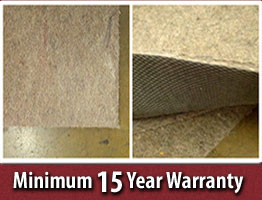 NO PVCs IN THESE PRODUCTS
PVC rug pads can discolor your floor and stain carpet. They are not good for your floors, your health, or the environment.
PREMIUM & SUPREME are made of recycled synthetic fibers comprised of Nylon, Polyester, and Polypropylene yarns recycled from carpet manufacturing plants. This is why there are many different colors in the product. Utilizing recycled postindustrial fibers reduces costs and helps our environment. Our fiber pad meets the carpet research institute's CRI Green Label certification.
This fiber is 100% synthetic, Non-Allergenic and made in the USA.