Introducing... Hadeed Bucks!
The gift that keeps on giving!
A loyalty card available to all of our customers, preloaded with anywhere from $50 - $3,000! Your card is good toward any of our cleaning services:
Rug Cleaning, Repair & Restoration
Wall-to-Wall Steam Cleaning
Upholstery Steam Cleaning
Air Duct Cleaning
Maid Services
Tile & Grout Cleaning
Hardwood Floor Cleaning & Polishing
Every time you spend money at Hadeed Carpet Cleaning, you earn bucks! You could be our $3,000 Grand Prize winner, receiving a one-year cleaning service package!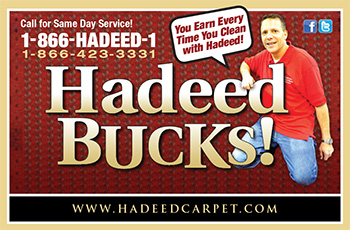 Limit one card per household.
To enroll into this savings program and receive your card in the mail, please submit your information by
Clicking Here
.
To find out your gift value and to register your card, go to: www.getyourbalance.com, where you'll be prompted to "Sign Up" and submit your contact information. Completing this process is important because it will officially enroll you into the Hadeed Bucks Savings Program and will allow you to earn 5% back on the card every time you spend money on a service.
Call us today to learn more about your Hadeed Bucks value card!
Everyone's a winner at Hadeed!