History
Biographies
Michael Hadeed, Founder of Hadeed Carpet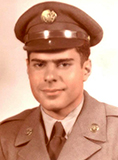 After completing military service in 1954, Michael, along with his brother Teddy, founded Hadeed Carpet in 1955. He had gained experience in the business while working for a large Washington, DC area rug cleaner. Michael started the business from his home in Alexandria, and built a plant on adjacent property the following year. From that point on, he expanded facilities three more times as business grew. Under his leadership, the business earned the National Institute of Rug Cleaning Award for seven consecutive years. He is an avid community activist, having served on the board of his local business association, and as president of the Alexandria Evenings Lion Club. He also spearheaded the approval of the 911 Emergency Service for the city of Alexandria. He continues to serve in the Lions Club after 40 years, and remains active at Hadeed Carpet. Michael enjoys playing backgammon and spending time with his family.
Joe Hadeed, CEO and President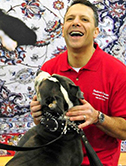 Joe grew up working for Hadeed Carpet, and this experience helped him learn early on all the aspects of the business. After completing studies at Randolph-Macon Military Academy and Radford College, Joe applied his knowledge of the family business to continue and grow its success. He learned and added home wall-to-wall steam cleaning and expanded the restoration department, while spearheading the move from Alexandria's Del Ray area to Alexandria's busiest corridor, Duke Street. Joe has continued the family tradition of community service, serving as Trustee of the Alexandria Hospital Foundation. His service also includes being on the Board of Alexandria Chamber of Commerce, KI Services Board Advisor, and he volunteers as a mentor at the Alexandria Adult Detention Center. Joe's goal is to continue to grow Hadeed Carpet while contributing to the betterment of the community through providing philanthropic donations to needy entities, such as ChildHelp.
Michael Hadeed Jr., Chief of Internal Operations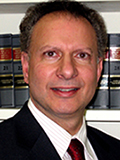 Focusing on business growth and development in the company, Mike initially grew up working at Hadeed Carpet on the weekends and summers for his father, Michael Hadeed. Mike Jr. earned his bachelor's degree at Virginia Tech, and his Juris Doctorate at George Mason University. He has served the community as a member of Alexandria's Master Plan Task Force, and founded the Potomac West Business Association. His interests lie in organizational growth, having started and built a number of successful businesses in the past. Mike Jr. joined Hadeed Carpet full-time in 2009, and has participated in its development into the region's best known, highest quality and largest rug cleaning and restoration business. Mike enjoys spending time with his wife and six children, vacationing at his beach house, regular exercise, and work.
Hadeed Carpet was the proud recipient of Alexandria's Business of the Year in 2011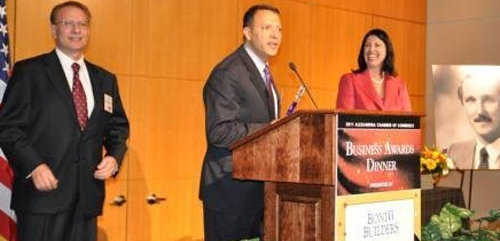 Dad and Son Video